Customer Kudos
"Good customer service is hard to find, if you can find it at all these days. Nice to know zZounds hasn't forgotten what counts. I never bought from zZounds before and bet I'll be back again. Thanks guys!!"
December 19, 2022

Universal Audio Volt Series
Capture your creative energy
If the Universal Audio Volt USB-C audio interfaces look like mini versions of classic studio recording gear, that's intentional. The team behind the popular
Apollo series of audio interfaces
as well as sought-after analog pieces like the LA-610 preamp, took a best-of-both-worlds approach with the Volt series.
Each interface in the Volt series elevates your sound in the way only Universal Audio can: with onboard vintage circuit emulation that invigorates your tracks at the source, before they even reach your computer!
All Volt interfaces bring the sought-after warmth of the
LA-610 preamp
to your fingertips with the press of the Vintage button. Select Volt interfaces also grant instant access to the sound of the legendary 1176 limiting amplifier. Add to that a suite of included software from top brands, MIDI I/O, iPhone and iPad compatibility, bus-powered flexibility, and killer design, and the Volt series are primed to exceed any expectations, especially at a price that's comfortably in reach for the home or hobbyist producer.
Don't settle for a bland USB audio interface -- give your sound a spark with a Universal Audio Volt!
Shop Now »
Universal Audio Volt 476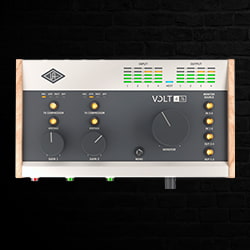 As the flagship of the Volt series, the Volt 476 is equipped to take on larger recording projects. Whether you're recording tracks for your band, conducting a group podcast, or livestreaming a performance, this 4-in/4-out USB interface goes above and beyond to deliver.

Instantly access the sound of an LA-610 preamp or 1176 limiting amplifier on channels 1 and 2 by hitting the Vintage or '76 compressor button. Both feature three presets for quick matching to your source: vocals, guitar, or fast, which is ideal for drums and percussion. Choose the Volt 476 to track your band's next demo and get a head start on polishing your tone!
Universal Audio Volt 276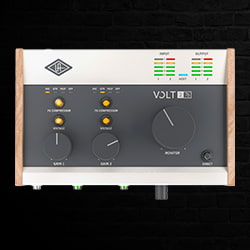 The mid-sized Volt 276 is a 2-in/2-out interface that excels on most recording projects, accommodating two simultaneous input sources like a vocal mic and direct guitar, a stereo pair of room microphones, or two podcast hosts! MIDI I/O on the back also opens the door to electronic instruments.

Like its bigger brother, the Volt 276 features independent gain controls on its two input channels, as well as instant access to the compressor and preamp tones. Easy-to-read top-mounted LED indicators make it easy to check input levels and ensure nothing is clipping.
Universal Audio Volt 176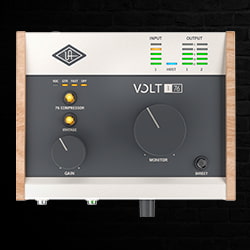 The most compact and affordable Volt interface to feature the 1176 modeled circuit, the Volt 176 offers perhaps the best value of any USB audio interface. A single XLR-1/4" combination input jack, stereo outputs, and MIDI I/O are all you need to sketch out song ideas when inspiration strikes.

Of course, the Volt 176's authentic analog modeling gets you closer to the sound in your head from the moment you plug in. And like others in this series, the Volt 176 comes with a suite of included software from brands like Ableton, Softube, Marshall, Ampeg, Melodyne, and others; all powerful tools to help you explore sounds and sculpt your mix!
Universal Audio Volt 2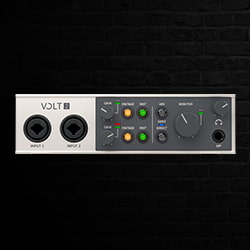 An ideal option for singer-songwriters, podcasters and other content creators who want to get the most out of their studio budget, the Volt 2 provides two XLR-1/4" combination jacks in a compact, easy-traveling USB audio interface.

Record two sources -- like guitar and vocals -- simultaneously, and set the ideal gain levels for each. The classic tube sounds of the LA-610 preamp can be accessed on either channel with a press of the Vintage switch. And a full suite of audio tools from brands like Ableton, Melodyne, Marshall, Ampeg, and more will keep your producer skills engaged through every project.
Universal Audio Volt 1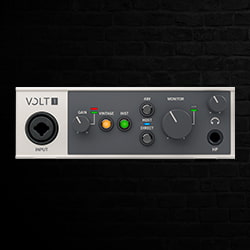 Consider the Volt 1 your most affordable entry point into the world of Universal Audio. This compact USB audio interface fits easily into your gig bag, and packs a wallop of audio processing power!

Plug in with a 1/4" or XLR cable and begin sketching out song ideas, or dial in sought-after vintage tones by way of Vintage mode. With just a single input, MIDI I/O, stereo outs and a headphone out, the Volt 1 couldn't be simpler to use. And if you really prefer compact setups, the Volt 1, like all other Volt series interfaces, is compatible with iPhone and iPad!
Universal Audio Volt Studio Packs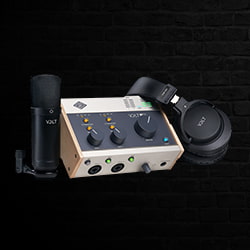 Building your home studio with a Volt interface as the centerpiece? Save the time and money of hunting down the rest of the essentials by opting for a Volt Studio Pack! Available with the Volt 276 or Volt 2, each pack includes a Volt large-diaphragm condenser mic with stand mount and cable, and Volt closed-back studio monitor headphones -- everything you need to record your first track, right out of the box!