Customer Kudos
"zZounds is and has been my go to source for most of my high end gear. Excellent payment options."
May 14, 2023

Line 6 Catalyst Amplifiers
Classic Design Meets Modern Tech
Line 6 is known for giving guitarists the keys to a treasure trove of killer amp tones and more amazing effects than they could dream of, all with the granular editing potential to create something truly unique. But what about when you just want to plug in and rock?
That's where the Catalyst series comes in. This family of guitar amps was designed to be plug-and-play, with six amp models and a selection of effects, all created with HX technology for a premium sound. You can easily dial in a great tone in seconds, and get rocking right away. And if deep editing is your thing, there are plenty of advanced features on the amp and in the Catalyst Edit app to keep you busy for days. Read all about these amps in our Spotlight guide, and find the Line 6 Catalyst amp model that's right for you!
Hear the Line 6 Catalyst 60 in action in our livestream demo:

Shop Line 6 Catalyst »
A Modeling Amp You'll Want to Gig With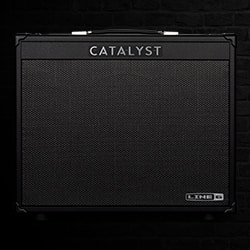 Line 6 designed the Catalyst series amps to deliver excellent tones and behave like traditional guitar amplifiers. That means zero menu-diving on the amp itself -- just tactile knobs and buttons, and easy-to-recall presets.

Six amp models grant you access to shimmering clean, boutique clean, British chime, classic crunch, touch-sensitive dynamic overdrive, and high-gain tones, all of which were crafted with HX sound design techniques. Each amp model has a unique boost circuit tailored to complement its tone, and you've got gain, 3-band EQ, and a presence knob to sculpt your ideal sound. Once you've made a godly tone, save it as a preset for instant recall on stage!
Deep Tone-Tweaking Options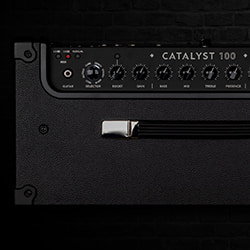 When you
do
want to spend some time getting granular, Catalyst lets you do that with plenty of advanced features. To unlock the six types of reverb, simply press and hold the reverb button for two seconds. Then the amp selector becomes a reverb selector switch! Go from classic spring and hall to awesome HX-based modulated and shimmer reverbs. The same process works for effects: hold the effect button, then use the amp knob to choose from different types within a category. To change effects categories, just press the effect knob once. The LED color indicates what effect you are working with: green for delay, blue for modulation, and purple for filter/synth.
When you want to go
really
deep, connect your Catalyst amp via USB cable to a computer or mobile device and fire up the Catalyst Edit app. Here, you can adjust hidden parameters on amps and effects that aren't available on the amp itself. You can even adjust simulated cabinet size and mic position when using the XLR output! It all adds up to super-customizable tones you can access with the press of a button or the
LFS2 footswitch
.
Your Studio Soulmate
On any Catalyst amp's back panel, you'll find all the tools you need to get polished tones into your DAW. First is the power attenuation knob, which takes you from mute, to one-half watt, to half power, and finally full power. This makes it easier to dial in authentically overdriven tones at a lower volume -- great for the studio or for solo practice. A headphones output lets you also hear yourself while keeping the amp muted, and an Aux In jack makes it easy to practice along to songs or backing tracks.

Also on the back port is the Catalyst's 4-channel USB audio interface. Simply connect the amp to your Mac, PC, iOS, or Android device to record and access further tone editing capabilities via the Catalyst Edit app. A MIDI input allows you to integrate the amp with a MIDI footswitch controller.
Find Your Catalyst Fit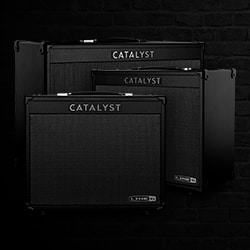 With options ranging from 60 to 200 watts, there's a Catalyst for any guitarist. Opt for the Catalyst 60 for the ideal home practice or recording amp. It can certainly get loud, and remains compact enough to easily tote to practice or lessons. Stepping up to the Catalyst 100 gets you enough brawn to be heard in a band mix and can easily be miked onstage at a gig. Finally, the Catalyst 200 boasts more power than you may ever need, and its twin 12" HC100 speakers add an extra dose of oomph to your riffs.