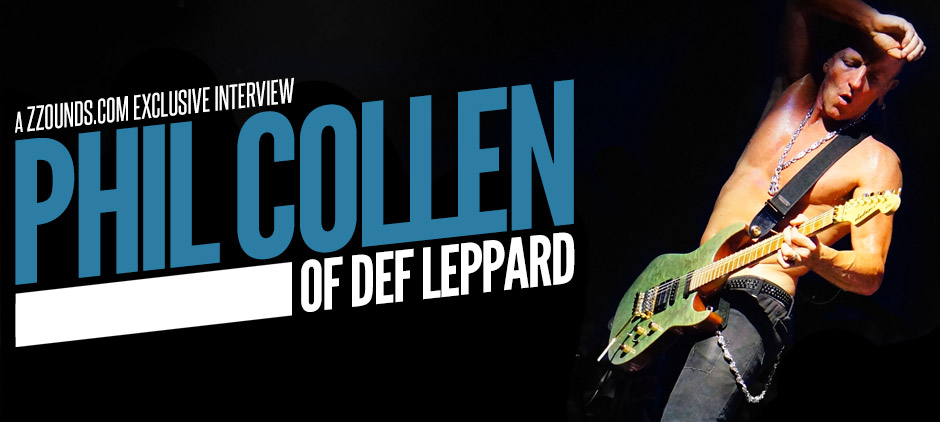 Guitarist Phil Collen has been recording and performing with Def Leppard for three decades now -- and he shows no sign of slowing down. We caught up with Phil to get the scoop on his signature axe, the Jackson PC-1 electric guitar, and its innovative Sustainer pickup system. In this exclusive interview, Collen dishes details on Def Leppard's latest release, as well as his side project band, Manraze, and how his approach to recording has changed over the years.
When we think of the sound of Def Leppard, we think of dense layers of studio production. DL's first live album, Mirrorball, just came out in 2011, and it was a long time coming. Was there any resistance to putting out a live album, since the studio itself has always been a huge part of your sound?
None at all. Believe it or not, 2010 was our first year off in 30 years, so we figured 2011 would be a good time to release it. The rest of the 30 years, we were in the cycle of studio album, tour, studio album, tour. We are relieved to get it out, because we're actually a hard core touring band.
Seeing Def Leppard live is kind of like watching a band with five front-men -- nobody takes a backseat. That said, in your side project Manraze, you're handling the lead vocals. What's it like to take on this role?
It was really weird, initially. It threw me for a loop, as I'd always been a guitar player that sung vocals, and all of a sudden I had to be a lead singer that played guitar. The main performance part would be lead vocal and solos, so I don't actually get a break with Manraze -- plus there's the added bonus of having to converse with the audience. So the transition was a lot harder than I thought.
Speaking of singers, Debbi Blackwell-Cook's soulful voice is all over the Manraze singles. How did you get acquainted with Debbi?
Debbi is my wife Helen's godmother and stays at our house often. She's got this great gospel voice and is always singing around the house, so we ended up singing together just by the virtue of the fact that we're there. On top of that, she's a professional vocalist, having performed on Broadway and all over the world. She even sang at our wedding. So it was a no-brainer. She's awesome.
Let's talk guitar gear. Tell us about the beautiful acoustic you're playing in those Manraze videos.
It's actually a Guild, if you're referring to the black acoustic I'm playing in the video with Debbi Blackwell-Cook. It's the new Guild Noir, and it is beautiful with a spectacular sound. I used it along with my Guild Jumbo on the Rock of Ages 2012 tour. Fender's Mike Tempesta suggested the Guild to me one day. I eventually ended up at the Corona factory where Fender/Jackson rep Mike Kotzen said, "Hey, check this out." I picked it up and it felt like I had been playing it for years.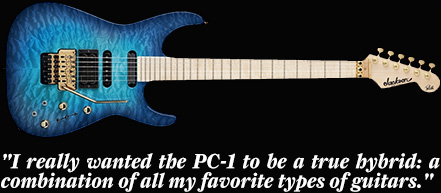 One of the most innovative features of your Jackson PC-1 is the Sustainer pickup system. What sorts of options and tones does the sustainer add to the guitar?
When I recorded the Hysteria album, I created tons of orchestral textures with an Ebow, a tool for sustaining. When we developed the PC-1, I wanted that feature in the guitar so I wouldn't have to use something external. But I also wanted to be able to get screaming feedback anywhere in the room and at any level. With the Sustainer, you can hit a switch that kicks the guitar into a high octave feedback. It's something I always dreamed of. I used to get this from standing in front of a speaker cabinet with everything as loud as it can go. The PC-1 allows me to do this at will.
In addition to the Sustainer, the PC-1 includes a DiMarzio Super 3 and HS2 pickup. What is it about these DiMarzio pickups that made you want to include them in the design?
I've been using DiMarzio pickups since I was 16 -- that's 38 years. I've tried every conceivable pickup that's out there, but the DiMarzio is my sound, and I always get a safe comfy feeling from using them. They work so well within the context of the PC-1.
Can you take us through the different knobs and switches on the PC-1? What are some different tones the various controls allow you to dial in?
There are three knobs: volume, tone, and sustain control. I have all three knobs further down the guitar as I have a tendency to turn them down or knock them; the positioning is my personal choice. There are two mini switches for the Sustainer. One's on/off, and the second is to turn on the high octave.
The PC-1 has a relatively thick neck and a unique compound radius fretboard. Have you always preferred a thicker neck on your axes? How does the PC-1's neck compare to other guitars?
I've gotten more and more into it as the years pass. Mike Shannon, Pablo Santana, and all the guys at Jackson try to catch me out there by making me a fatter neck each time. I don't think we've maxed out yet, because I love each one. My latest PC-1's are the biggest necks that Jackson Guitars have ever made for anyone. They customize them for me, because a store-bought PC-1 comes with a thinner neck. I prefer bigger because it gives a better tone, plus I'm a really aggressive player and I use really heavy strings (13/56) and a whammy bar. So I'm constantly giving the guitar a workout, tension-wise.
As opposed to many other Jackson guitars, the PC-1 uses a mahogany body with a gorgeous quilted maple top. How does this wood combination affect the guitar?
I really wanted the PC-1 to be a true hybrid: a combination of all my favorite types of guitars. The maple/mahogany is a classic combo for a Les Paul, but the shape of the guitar and bolt-on neck is more like a Strat. Add the Sustainer, the DiMarzios, and the Floyd Rose, and you can just about make the PC-1 sound like any guitar you want. I was very surprised that many country players use them, which is a testament to the variety of the guitar.
Having been recording for 30 years, you have a unique perspective on what's possible these days with computers and cool tools like amp simulation plug-ins. What's different about your writing and recording process now? Is it liberating to be able to knock something out quickly?
I've been recording for years now, but it's been with Def Leppard for 30 years to be exact. It's the ultimate freedom to be able to pull up sounds really quickly and be able to get them down as they arrive, and not have to lose your inspiration by having to get a sound together. For the past three years, pretty much all of my recording has been with the software program Guitar Rig and my Mac laptop. I love the flow of it.
You just got home from a huge tour with Def Leppard. How do you balance the rock and roll lifestyle with staying healthy? Give us your best Phil Collen fitness tips.
I actually tend to work out more on tour. The way I look at it is, I can either be out doing something healthy, or sit in a dark, air-conditioned room watching YouTube and eating. Food is the most important thing. Being healthy doesn't have to be complicated. It's not a science. In a nutshell, stay active and eat food that likes you.