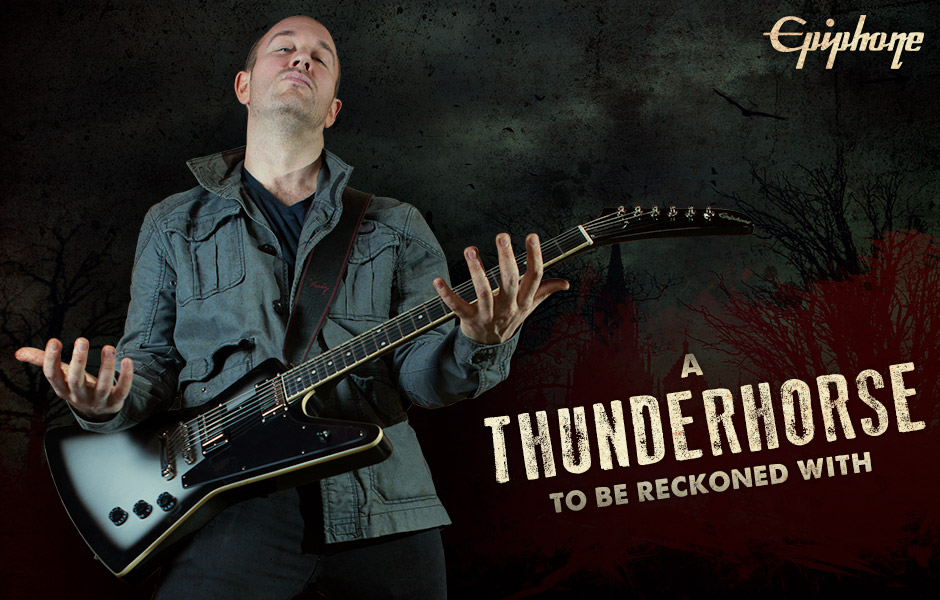 Brendon Small is the comedic (and musical) imagination behind Dethklok -- the virtual metal band that melts faces every Monday on Adult Swim's "Metalocalypse." With the "Thunderhorse" Explorer Outfit, Epiphone and Brendon have collaborated to create a seriously versatile 6-string. Loaded with a pair of Gibson USA BurstBuckers with push-pull pots to switch between single-coil and double-coils, Brendon's signature Explorer gives you access to an enormous range of tones -- from the screaming metal leads favored by Dethklok lead guitarist Skwisgaar Skwigelf, to classic-rock crunch.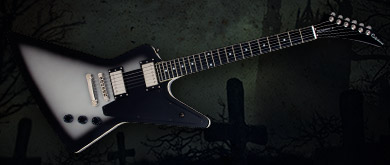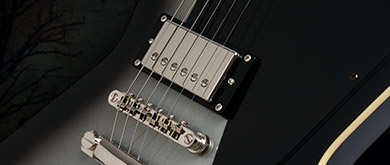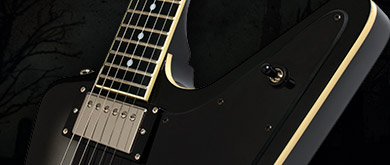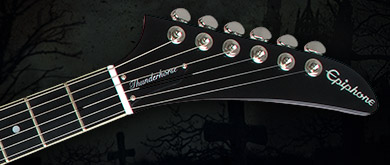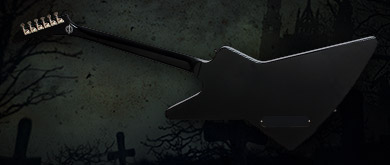 The Brendon Small "Thunderhorse" Explorer at a glance:
- Striking Silverburst gloss finish on a classic Explorer body
- Mahogany body and neck
- Hand-set 24.75" scale neck with 1960s SlimTaper D neck profile
- Super-smooth, super-fast phenolic fretboard
- Gibson USA BurstBucker pickups with coil-tapping
- LockTone Tune-o-matic bridge
- Includes premium custom gig bag and Dethklok stickers
Sure, Brendon Small is cool and all -- but we were even more stoked to snag a rare opportunity to interview Skwisgaar Skwigelf himself. In this zZounds exclusive interview, the guitar god dishes dirt on his Dethklok bandmates, the recently-released Dethalbum 3, his advice for beginner guitarists, and more.
What is the secret to your deity-like tone?
Goods questions. It's ams simplicities. You don't needs no effects or nothings, just a goods guitars and a goods amps. Tones comes from good vibratos and goods pickins attacks. If you don'ts sounds goods it am totallys your fats fingers faults.
How did you get started playing guitar?
Welp, I was beins chased by wolves and fell into a caves where I saws an ancient dietys holdings an explorer. I dusted off de guitars and begans my journeys into de woild of guitars.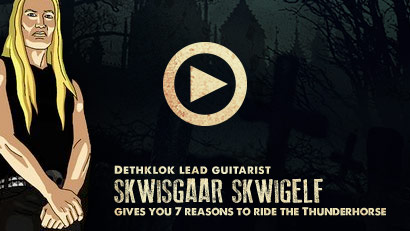 What's the craziest thing you've seen a fan do?
Uh, welps. I remembers throwins out a guitars into de audience and one guys caughts it and everyones trieds to steals it from hims so he started beatings dems up and puts a few in de hospitals but ended up givings it to a smalls boy whats dropped his ice creams cones.
Your solos are so incredibly fast, how does a human play so fast? Are you a human?
Yeah dey ams on de fast sides, I wills aree with dat. Sadlys, (for everybodys else) I ams humans- just likes Hercules or Persius , a mortals, who has insteads accepteds de challenge of playins fast rathers dens say, fightings a Hyrdas or a Crackins or a gigantics scorpians...
Your hands are rumored to be worth 100 billion dollars (10 billion per finger) - how does one protect that kind of investment?
I tends to keeps my hands in my pockets if my pants ain'ts too tight. Otherwise I'll wears some mittens or pulls downs my sleeves.
Some people consider the Norwegian Black Metal scene to be the most brutal music scene in the world. What could the black metal musicians in Norway learn from Dethklok to be even more brutal?
It amments a race to sees who ams more brutals. It ams a race to makes de best musics with de best guitars playins. Lets de teenyboppers in de chatrooms fights over what ams most brutals, You know what I'm sayings?
You have been known to be highly critical of bandmate Toki Wartooth's guitar playing; what tips would you give to an underachieving rhythm guitarist looking to improve his or her lead guitar skills?
Pays attention to your playings. Listens to yourself. Otherwise you will keeps on makins de sames mistakes over and over agains like Toki. He ams lazy. And laziness ams de enemies to de guitar. He coulds be better if he applieds himselfs, he ams an inconsistants players.
Why do you play a Thunderhorse?
Because it ams cools lookins and it sounds and plays de best. It's dat simples!
What advice can you give to someone just starting out on guitar?
Practice slowlys. Yups, I said its: 'slowlys'. De speeds will comes. Record yourselves playing so dat you can hears all your miserables mistakes and correct dem. Concentrates hard when you practice, for me dat means you gotta kicks all de ladies out of de rooms because day ams a distractions.
Dethalbum 3 sounds sick as hell! What's the Dethklok recording process like?
First offs you has exellent tastes. Secondlys, myselfs and Pickle and Nathans works really hard figurings out de song forms and feels of each sections. And we records a bunchk of roughs voisions dens we polish dems and I'll goes in to records my solos which ams a glorious moments for de band and de recordins crew. And den Moiderface and Toki wakes up and act like dey helped.
You design custom guitars in your spare time. What kinds of features make for the ultimate guitar?
De guitar has been perfecteds in de 1950s all i can does is maintains de perfection but sometimes I'll adds a knicks knacks or something. For examples I builts a guitars dat has a wireless internets and comes Netflix ready. I also has ones dat has a space heaters where your pelvis ams in case you has to plays in a blizzard. I aslo has an enviornmentallys friendlys ones mades of elephants whats died from naturals causes (likes diabetes).
If you could work with any musician, alive or dead, who would it be?
Probablys Harpos Marx. He totallys shreddeds on de harps. Hims or Abrahams Lincolns…verys few people knows dat he was de kings of de sweeps arpeggios.
As part of the biggest band on the planet, what's still left to do on your bucket list?
De lasts things on my buckets list ams to go arounds de woild buyins de best most luxurious and expensives buckets knowns to mankinds. Once I has all dems buckts checked offs froms my list dens I can die.
What do you think of keyboards in metal?
Dey ams fines. Dey helps a songs to accentutes a sections. Ams dat seriously your last questions? You should has endeds with de buckets list!
Watch "Metalocalypse" on Adult Swim, 12:30AM and 3:30AM EST on Mondays!