Customer Kudos
"Play as you pay is a LIFESAVER!!! Fast shipping and fantastic customer service"
April 22, 2022

Boss Katana Bass Amps
Sharpen Your Low-End Sound
Bassists, your quest for a portable, gig-worthy combo amp with a stable of useful tones is over! The Katana Bass series brings the intuitive, authentic tone sculpting of
Boss Katana guitar amps
to the bass world.
Available in your choice of a 1x10" 60-watt combo or a 2x10" 160-watt combo, these amps have the power you need on stage and the digital amp modeling and effects technology to craft a variety of authentic tones. Read up on each amp below, and find the right Katana Bass amp to back your rhythm section!
Shop Now »
Katana-110 Bass: Potent & Portable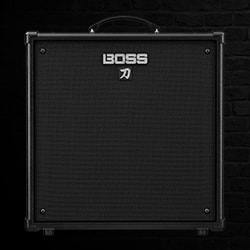 The smaller of the two, the Katana-110 houses a 10" woofer plus a tweeter in a closed-back cab driven by 60 watts of analog Class AB power to efficiently add punch to your tone. Weighing in at just 37 pounds, it's light enough to carry to band practice, bass lessons, or gigs, without worrying about your back!

Whether it's your first bass amp or not, the Katana-110 has enough features and tones inside to grow with your bass career and keep you satisfied as your tonal needs change.
Katana-210 Bass: Plenty of Power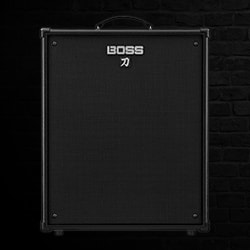 If you really need more juice onstage, the Katana-210 is your weapon of choice. Outfitted with twin 10" woofers, a tweeter, and a 160-watt Class-AB amp, this combo amp is more than stage-ready. And at just under 50 pounds, the Katana-210 is still an easy amp to load in the trunk and gig with!

An amazing value in a truly giggable bass amp, the Katana-210 is a serious workhorse. Craft some time perfecting your tone, and bring the thunder with this compact combo!
Boss-Approved Tone & Effects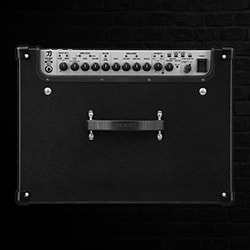 Start crafting your custom bass tone on either amp with the Type knob: choose Vintage for classic thump, Flat for a neutral response, or Modern for a higher-fidelity preamp sound. From there, dial in your desired amount of dry or uncolored signal via the Blend knob. Volume, Gain and a 4-band EQ section do the heavy lifting with regards to tone, and you can further tweak your signal with the Shape control, or by bypassing your tweeter!

Boss also brings their effects expertise to Katana Bass. Start by selecting your overdrive and compressor of choice, then dial in to taste. From there, use the FX1 and FX2 controls to add and adjust a series of classic Boss effects, from chorus and octave to bass synth and flanger, as well as reverb and delay.
Equipped to Gig and Record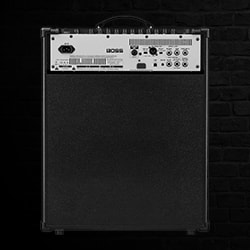 On the back of both Katana Bass amps, you'll spot a variety of ins and outs, including the effects loop, headphone out, and aux in. You can also add an expression pedal, or a
Boss GA-FC
footswitch for instant recall of presets. Each amp also offers a balanced XLR output for recording or plugging direct into a PA system, as well as a power amp input if you'd like to use an external preamp.
Another important connection is the USB output. Connect to your computer to record direct, and use the variable power control to mute the signal, or turn down to one watt for cranked tones at quieter volumes. The USB connection also lets you access Boss's Tone Studio editor, which unlocks several more effects and features, as well as deep editing tools you can tweak and save to your amp!