Customer Kudos
"Quick delivery in new condition. Never any foolish hang ups with ordering and/or shipping. No demos sneakily shipped. Everything on the up & up. TY zZounds!"
October 06, 2023

Ampeg Venture Series
A powerful, portable backline for your bass journey
Any bass amp worth gigging with needs to be loud enough and offer great tone at stage volume. That's easy enough to find, but add lightness, portability, and affordability to your critieria and your search narrows considerably. Ampeg designed their Venture series with all of this in mind. This family of solid-state amp heads and cabinets (plus a range of accessories) brings killer tone, plenty of volume, and a surprisingly rich feature set to a working musician's price point.

From the SVT- and B15-inspired gain circuitry of their Super Grit technology, to on-board DIs and effects loops standard, to carry handles on each cabinet and optional swappable grilles, there's a whole lot to make Venture amps an excellent road and studio companion for any bassist. Read on to learn more and find the Venture amp/cab combo that fits your groove!
Shop Ampeg Venture Series »
Ampeg Venture V3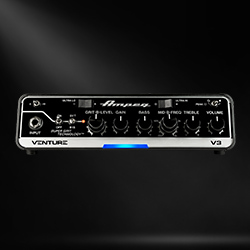 The lightest of all Venture amp heads, the V3 does not skimp on power, boasting 300 watts delivered by a Class D power section. Its 4 ohm output can power any Venture series cab, or you can go direct via an onboard DI, or practice silently by connecting headphones to its 1/4" output. You can even jam along to music on your phone via its aux input!

Tone shaping controls include a 3-band EQ with sweepable mids, Ultra Lo and Ultra Hi switches for adding thump or crisp clarity, plus Super Grit Technology for dialing in your preferred era of Ampeg gain. Be it thundering rumble or hi-fi slap, create your ideal tone on the impossibly portable Venture V3!
Ampeg Venture V7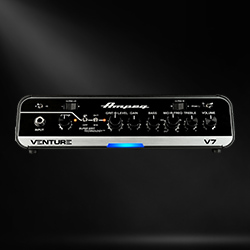 Firmly placed in the middle of the Venture family, the V7 packs a walloping 700 watts of solid-state power while still fitting inside a laptop bag! A super-versatile I/O section includes an effects loop with dry/wet control, DI out with optional -20 dB cut, a footswitch input, preamp out and power amp in, plus Neutrik speakON outputs!

The V7 has all the same controls as the V3, and adds a variable on-board compressor to help bring out every articulation of your playing and even out your dynamics. Choose between SVT and B15 voicings, and adjust the gain amount and level independently via concentric knobs. The V7 adds more features and of course, more power to the Venture portable bass amp format and is a worthy tour companion for the gigging bassist.
Ampeg Venture V12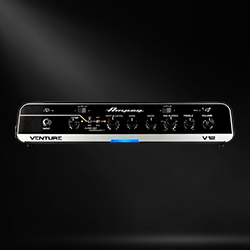 With their position at the depths of the frequency spectrum, basses require a lot of juice to be heard in a mix. The Venture V12 ensures you're heard, with 1200 watts of Class D power! It boasts the same comprehensive I/O as the V7, so you can be sure it can tackle any performance or recording job.

Worth noting is the mute switch on the front panel, great for muting your rig between sets. The Legacy preamp recalls classic Ampeg character, which you can tweak to your own tastes via a 3-band EQ, Ultra Hi and Ultra Lo switches, and Super Grit Technology based on either an Ampeg SVT or B15 circuit. Rule the low end with an amp you can fit in your gig bag: the Venture V12!
Ampeg Venture Bass Cabinets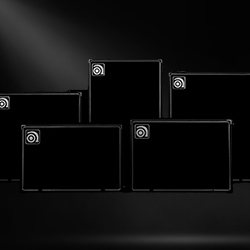 What could suit a Venture amp head better than a Venture series cab? Ampeg designed these cabinets to match the lightweight portability at the core of the Venture Ethos, while delivering all the tone and oomph you need.

Choose from 1x12", 1x15", 2x10", 2x12", or 4x10" configurations depending on your needs. Each features some lineup of Lavoce neodymium woofers and variable high-frequency drivers. They also feature carry handles and a durable and sleek carbon-fiber style Tolex covering. Any Venture cab can be paired with any Venture head, and the biggest cab (the VB-410) still weighs just 42 pounds, so you can't go wrong!
Bags and Covers for Ampeg Venture amps
Your Ampeg Venture amp was made to travel -- make sure you're protecting it on your way to gigs! The official line of Venture series carry bags perfectly fit the V3, V7, and V12 heads in stylish, zippered enclosures with 10mm of padding. Accessory pockets hold cables and other gear, and the bags include an adjustable shoulder strap. Additionally, you can protect your Venture cab with a padded amp cover!
Grille Assemblies for Ampeg Venture Bass Cabinets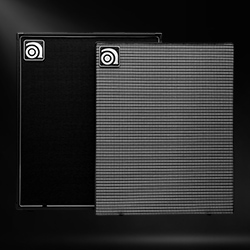 Venture amps and cabs are modern designs, but they draw inspiration from Ampeg's greatest achievements of the past. If you'd like to add a touch of vintage flair and pay tribute to a classic Ampeg amp, you can swap in a replacement grille assembly to your Venture cab! This alternate option sports a silver grille reminiscent of Ampeg Portaflex amplifiers. No tools required.