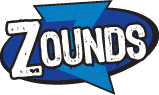 One less Z -- a TON more savings! Find gently used, blemished, and resealed gear at blowout prices. Hurry -- quantities are limited!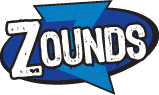 One less Z -- a TON more savings! Find gently used, blemished, and resealed gear at blowout prices. Hurry -- quantities are limited!
Customer Kudos
"zZounds is by far the best online music store. Great selection, great people, and incredible payment options. I'd recommend zZounds any day of the week."
November 30, 2023
Clearance NUX | zZounds
13 products
Search Results
Dial in a realistic sounding and feeling studio kit with ease! NUX's DM-8 offers superior digital drum technology with realistic feeling all-mesh heads.

Take the NUX Mighty Air anywhere! This rechargeable speaker comes with a plug-on wireless system for your guitar, and built-in FX you control via your phone.

Take your music wherever you go! The NUX Mighty 8BT MKII can be powered by eight AA batteries for eight hours or be powered by a conventional wall outlet.

With three adjustable reverbs, delays inspired by three different decades, plus Shimmer and Freeze modes, the NUX Atlantic pedal is versatile and musical.

Build your dream board! The NUX Bumblebee is a two-tier modular board you can customize, and it includes cable management hooks and carry bag!

Perfect for the guitarist looking for an all-in-one tone machine, the NUX NAI-5 Optima Air acoustic sim lets you explore multiple sounds with one guitar.

Get analog overdrive, digital effects, and preset saving with the NUX Cerberus, a multi-effects pedal that includes IR loading for custom cabinet simulation.

Get easy, plug-and-play guitar wireless with the NUX B-2 Plus. Its narrow-band transmission provides a stable, clean connection and avoids interference.

Simplify your traveling rig with an amp-less setup. This box simulates tube power sections, as well as 8 speaker cabinets and 8 different microphone models.

The Stageman Floor includes nearly anything a gigging acoustic guitarist could ever need, like a preamp, DI out, a looper, notch filter, chorus and reverb!

Get pinpoint accurate tuning information in a bite-sized footprint with this intuitive and efficient tuner pedal, perfect for almost any board!

Nux pays tribute to the classic Bogner Ecstasy amp's Red Channel tone with this stripped-down stompbox. Step on the XTC for instant mighty, meaty saturation.

This'll break your blues! The NUX Morning Star overdrive adds grit to your clean tone, with a switchable high-frequency brightness boost and true bypass.
NUX pedals strive to be a key piece of anyone's pedalboard, with effects that offer a compact footprint and a multitude of uses. Save a spot for NUX on your board! Call our Gear Experts now for help with your purchase:
800-460-8089
.