One less Z... a TON more savings! Clearance gear available in limited quantities.
One less Z... a TON more savings! Clearance gear available in limited quantities.
Customer Kudos
"Can't beat the site. I live in the middle of nowhere and it's like having a music store right down the road."
September 17, 2021
13 products



Yamaha PSR-EW310 Portable Keyboard
Looking for a beginner 'board that's more than a toy? The 76-key Yamaha PSR-EW310 keyboard includes Touch Tutor, iOS interfacing, MIDI connectivity and more.

Yamaha PSR-E273 Portable Keyboard
With 61 full-size keys and plenty of beginner-friendly learning tools and software, the Yamaha PSR-E273 is the ideal keyboard to start your music career.


Korg EK-50 L Portable Keyboard
Get a portable keyboard with sounds you'll actually use. The Korg EK-50 L has a wide variety of presets, including 18 drum kits, and intuitive controls.

Perfectly sized for kids' hands, this battery-powered keyboard is two tons of fun! Learn to play along with 50 rhythms and 10 built-in songs in 100 timbres.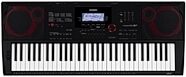 Korg EK-50 Entertainer Keyboard
Have fun playing and learning with a Korg EK-50 Entertainer. Its auto-accompaniment and intuitive design make it easy to practice or record ideas and parts.


This affordable keyboard is perfect for children who want to learn how to play piano. Yamaha's wide selection of sounds makes it great for beginners!
Ideal for beginners, portable keyboards make learning to play piano fun. Get built-in speakers and all the sounds you need in a lightweight, affordable package. Call our Gear Experts now for help with your purchase: 800-460-8089.