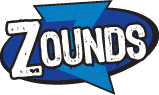 One less Z -- a TON more savings! Find gently used, blemished, and resealed gear at blowout prices. Hurry -- quantities are limited!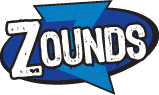 One less Z -- a TON more savings! Find gently used, blemished, and resealed gear at blowout prices. Hurry -- quantities are limited!
Customer Kudos
"zZounds puts instruments in the hands of artists who wouldn't otherwise be able to afford said instruments. It's why I will gladly keep recommending them. As one of those artists I appreciate that above all else."
January 23, 2022
13 products
Search Results
Set it, forget it, and record better vocals! This do-it-all mic preamp/channel strip gives you dbx compression, expander/gate, de-esser and "enhancer" EQ.

A two-channel '73-style mic preamp/EQ in an affordable package? Yes, please! Warm Audio's take on the 1073 delivers 80 dB of gain and 3-band EQ -- times two.

The Portico 5017 packs a great-sounding Neve mic preamp, compressor, and instrument DI in a to-go box. You can even blend the XLR mic and DI to one output!

Record any source through this versatile tube preamp! The super-compact ART Tube MP Studio V3 gives you a huge variety of voicings, output limiting and more.

More than just a mic preamp, the Studio Channel lends warm tube character to your tracks and helps shape your sound with a VCA compressor and three-band EQ.

Fatten your vocal tracks with this tube mic preamp's selectable plate voltage and variable impedance -- then record to your computer via USB, ADAT or S/PDIF.

Dial in warmth and clarity on UA's iconic LA-610 preamp -- and compress on the way in with a T4 optical circuit identical to the legendary Teletronix LA-2A.

The classic Putnam 610 preamp, plus the legendary 1176 compressor, equals one unbeatable channel strip. Warm up vocals, drums, and more with the UA 6176.

One Putnam 610 console tube preamp, to go! With its fat input and output gain knobs, the UA Solo 610 warms up any microphone or DI instrument in the studio.

Heritage Audio delivers 1073-style character for less with their Elite Series HA73 -- a fully discrete Class A mic pre with 80 dB of gain. No EQ, no problem!

The limited-run 5025 packs two Shelford preamp channels into one rack space. Dial in 72 dB of clean gain, and add the Silk circuit for rich harmonic color.

Get more out of that low-output mic! This phantom-powered in-line preamp adds 15 or 30 dB of gain, with 8 variable impedance settings for coloring your tone.

The Shelford channel strip gives you the character of a Neve console, thanks to Rupert's Class A mic preamp, inductor EQ, diode-bridge comp/limiter and more.
Your studio microphone is only as good as the preamplifier it's plugged into. Upgrade your home recording setup with an outboard mic pre, or two, or eight... Call our Gear Experts now for help with your purchase:
800-460-8089
.