Customer Kudos
"Service is everything to me in business. zZounds answers their calls quickly and is helpful in most ways. They have a good thing going and can only get better some how."
January 10, 2022
13 products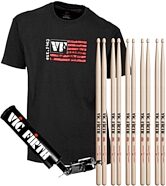 Lightweight for players who have a faster playing style, these Vic Firth American Classic drumsticks feature the tear drop head for rich cymbal resonance.

Tradition and Vic Firth style combine in the American Classic 5B hickory drumsticks with tear drop tip.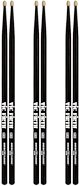 If you're looking for a durable, great-sounding pair of drumsticks, look no further. The sticks' teardrop tips help you to produce a rich, dark tone.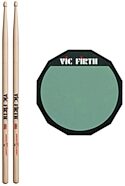 Play drums discreetly with Vic Firth Soft Surface Practice Pads. Each practice drum pad includes a non-skid rubber base and 8 mm stand mounting threads.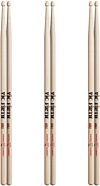 Turned from dense select hickory wood with a teardrop tip that's designed to intensify cymbal response, these 7A size sticks are ideal for lighter jazz.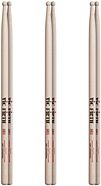 These heftier sticks are the perfect length and girth for beginning drummers, orchestral percussionists, or members of a drum corps.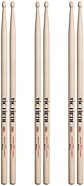 Traditional Vic Firth style with a bold modern design! The Vic Firth American Classic Rock drumsticks deliver intense cymbal response and are easy to hold.

With an extra 1/2-inch added to the length, these drumsticks give you extra reach, and added power without compromising balance and feel.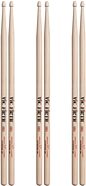 Vic Firth takes a time-tested design up a notch with American Classic Extreme sticks -- the perfect sticks for the 5B player who wants more power and reach.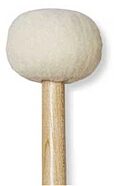 Turned from a single piece of rock maple, with a round seamless head, each Vic Firth timpani mallet is built to pull big, bright sound from your timpani.

Need a great beater for jazz? The Vic Firth VKB3 bass drum beater features a medium felt core covered in fluffy fleece that delivers a full, warm sound.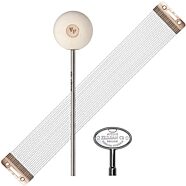 Need a fuller snare drum tone? The Vic Firth Snappy snare wire is built with premium Japanese steel that produces snap at all dynamic levels without choking.

You've never felt a beater like this! The Vic Firth VicKick bass drum beater uses a wooden shaft to distribute weight, delivering additional balance.