Customer Kudos
"Best place to get the equipment you need without breaking the bank, payments over time work great for me."
September 11, 2021
12 products



Yamaha PSR-E373 Portable Keyboard
Explore a world of sounds and learn to play on the Yamaha PSR-E373, a portable keyboard that includes over 600 voices and a variety of accompaniment styles.

Yamaha PSR-E273 Portable Keyboard
With 61 full-size keys and plenty of beginner-friendly learning tools and software, the Yamaha PSR-E273 is the ideal keyboard to start your music career.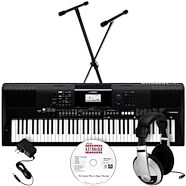 Yamaha PSR-EW310 Portable Keyboard
Looking for a beginner 'board that's more than a toy? The 76-key Yamaha PSR-EW310 keyboard includes Touch Tutor, iOS interfacing, MIDI connectivity and more.


Make music anywhere with this mini keyboard! Loaded with a built-in arpeggiator and plenty of sounds to choose from, the PSS-A50 will get you inspired.

Yamaha PSS-E30 "Remie" Mini Keyboard
This affordable mini keyboard is a great value for the money! Learn how to play piano on-the-go with an included "quiz mode" that's ideal for children.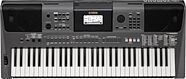 Yamaha PSR-I500 Portable Keyboard
Learn Indian music and perform with authentic instrument sounds! The Yamaha PSR-I500 features an array of Indian instruments and auto-accompaniment styles.

This affordable keyboard is perfect for children who want to learn how to play piano. Yamaha's wide selection of sounds makes it great for beginners!

Alesis Harmony 32 Personal Keyboard
Great for beginners and fun for everyone, the Alesis Harmony 32 personal keyboard includes built-in learning features and 3 months of Skoove Premium lessons.