Customer Kudos
"Excellent customer service. Extremely fast delivery. Accurate order. Well packed quality merchandise."
May 13, 2023

Taylor 722ce and 724ce
All Solid Koa, Lively Tone
Channeling the natural beauty and sonic qualities of Hawaiian koa, the Taylor koa 700 series is perfect for fingerstyle and strumming alike. The ultra-thin finish allows the koa to breathe freely, so nothing restricts the wood from resonating. With the addition of V-Class bracing and Taylor's ES2 active electronics, the 700 series is the perfect recipe for any player.
Check out our video demos to compare the smaller-bodied Grand Concert 722ce and the larger-bodied Grand Auditorium 724ce -- and hear the magic of Hawaiian koa!


Shop 722ce and 724ce »
Taylor 722ce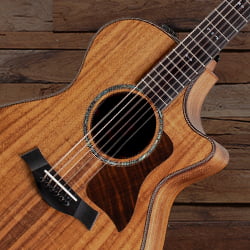 With its smaller body, the 722ce is ideal for those who play fingerstyle guitar. Strum with a lighter touch and you'll be greeted with a blooming, balanced sound that really shows off the all-solid-koa body. Its ergonomic neck profile paired with a cozy, Grand Concert-sized body makes for an easy-playing guitar that produces a warm sound.

Features:
Body Shape: Grand Concert
Top, Back, and Sides Material: Solid Hawaiian Koa
Finish: Ultra-thin Matte
Scale Length: 24 7/8 inches
Taylor 724ce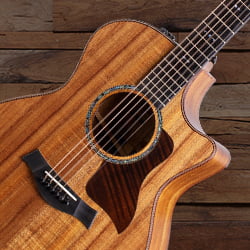 With its larger body size in Taylor's most popular Grand Auditorium body shape, the 724ce is a great platform for fingerstyle and strumming. Singer-songwriters who crave a full, lush sound that won't get in the way of their voice will vibe with this guitar. Its ultra-thin finish allows the wood to breathe, freeing up the koa to resonate freely.

Features:
Body Shape: Grand Auditorium
Top, Back, and Sides Material: Solid Hawaiian Koa
Finish: Ultra-thin Matte
Scale Length: 25 1/2 inches