Customer Kudos
"Easy layaway and fast delivery and prompt service. You guys are the best."
July 10, 2023

Meet the Apollo X6, X8, X8p, and X16!
Universal Audio Apollo X Audio Interfaces
Next-generation Thunderbolt 3 studio centerpieces
Since they were first released in 2012, Universal Audio's Apollo audio interfaces have quickly become a studio standard -- combining top-notch A/D and D/A conversion and Thunderbolt connectivity with industry-leading UAD Powered plug-ins and Unison preamp modeling. Universal Audio has raised the game with the 3rd generation of Apollo rackmount interfaces: the Apollo X series.

Record and mix with revamped A/D and D/A converters offering 129 dB dynamic range, HEXA 6-core processing for a huge range of UAD plug-ins, precise Unison mic preamp modeling from Neve, Manley, API, Helios and SSL, and surround sound monitoring -- all in a single-rack-space Thunderbolt 3 interface for your Mac or PC.

Choose from the Apollo X6, Apollo X8, Apollo X8p and Apollo X16 Thunderbolt 3 interfaces, all available on zZounds payment plans!
Shop all Universal Audio Apollo interfaces »
New: Upgraded A/D & D/A conversion, HEXA DSP, and more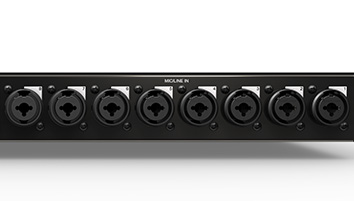 ● Next-generation Apollo X A/D and D/A conversion improves on the first- and second-generation Apollo models. UA Apollo interfaces have long been known for their world-class 24-bit/192 kHz audio converters. The new Apollo X models offer 129 dB dynamic range and 128 dB THD+N, rivaling the most high-end dedicated converters on the market.
● New UAD-2 HEXA-core processing on all Apollo X models gives you six dedicated DSP chips, for 50% more UAD plug-in processing power than previous Apollos. Run more UAD plug-ins simultaneously -- whether you're tracking in real time through models of channel strips from Neve, Manley, or API, or mixing in your DAW with UAD plug-ins on every track.
● Unison-enabled mic preamps let you record through classic preamp emulations from Neve, API, and Universal Audio. The "p" in Apollo X8p stands for "preamps" -- you get 8 ultra-transparent, digitally controlled Unison-enabled XLR mic preamplifiers onboard.
● Support for Surround Sound formats up to 7.1 on Apollo X16, complete with speaker calibration and fold-down.
Apollo Expanded: Mix and match multiple units over Thunderbolt 3
●
Mix and match multiple units with Apollo Expanded.
Cascade up to 4 Apollo interfaces and a total of 6 UAD devices over Thunderbolt. Imagine chaining four Apollo X16s to build a monster 64-track studio. Just add Thunderbolt cables!
●
Already have an Apollo Twin interface?
Cascade its I/O with one or more rackmount Apollo interfaces! The Twin becomes your desktop monitor controller, and you'll have access to the DSP and connectivity on all your Apollos.
●
Add a Universal Audio DSP accelerator.
With the ability to connect up to 6 UAD devices over Thunderbolt, you can build a monster recording and mixing rig with DSP for days.
Get UAD Powered plug-ins -- and the DSP you need to run them!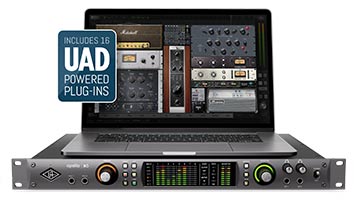 ● Realtime Analog Classics Plus bundle included! All rackmount Apollo interfaces come with a plug-in bundle to get you started in the world of UAD-2 processing. The Realtime Analog Classics Plus bundle includes the UA 610-B Tube Preamp & EQ, Teletronix LA-2A Legacy, UA 1176, and Fairchild 670 Legacy compressor, Pultec EQs, RealVerb Pro, and more.
● Customize your dream outboard gear collection "in the box." Choose from an ever-growing library of UAD Powered plugs from the likes of Lexicon, Studer, Manley, Ampex and more -- all available separately from Universal Audio's website.
● Plenty of on-board DSP to run your plugs! Realtime UAD Processing lets you record, monitor and mix through Universal Audio's spot-on emulations of classic gear. Every Apollo interface has DUO or QUAD processing so you can build bigger, badder sessions.
Apollo X6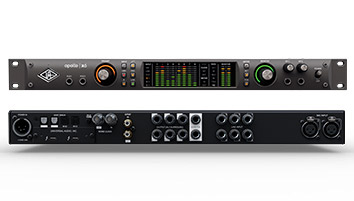 ● Ideal for electronic music and post-production
● 2 Unison-enabled mic preamps
● 16x22 I/O
● UAD-2 HEXA-core processing
● Two Thunderbolt 3 ports

Apollo X8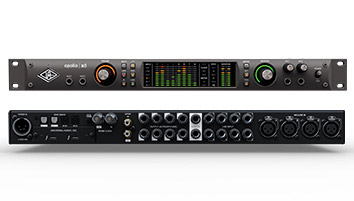 ● Built for music production and live tracking
● 4 Unison-enabled mic preamps
● 18x24 I/O
● UAD-2 HEXA-core processing
● Two Thunderbolt 3 ports

Apollo X8p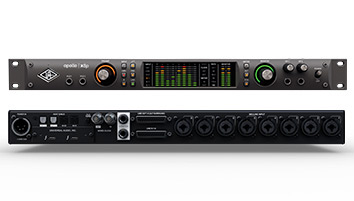 ● For full-band live tracking with more microphones
● 8 Unison-enabled mic preamps
● 18x22 I/O
● UAD-2 HEXA-core processing
● Two Thunderbolt 3 ports

Apollo X16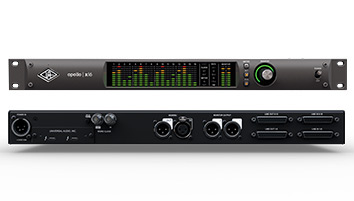 ● Ideal for commercial studios with consoles or outboard mic preamps
● 16x16 analog line I/O via DB-25 connections
● UAD-2 HEXA-core processing
● Two Thunderbolt 3 ports