Customer Kudos
"Great products, great product selection, knowledgeable personnel, helpful customer service."
January 6, 2022

Roland V-Drums Acoustic Design Kits
Explore the VAD 503 & VAD 306 Kits
Roland made a major splash at NAMM 2020 with Acoustic Design V-Drums. This line completely re-defines how electronic drum kits should look, sound, and feel. With wood shells topped by mesh heads, and highly reactive cymbals, all powered by acclaimed Roland sound modules, VAD kits bring together the best of acoustic and electronic drums.

In this Spotlight guide, we're taking a look at Roland's first Acoustic Design V-Drums kits, the VAD 503 and VAD 306. What makes these kits unique and which is right for you? Read on and learn more!
Shop Roland Acoustic Design V-Drums Kits »
Roland VAD 503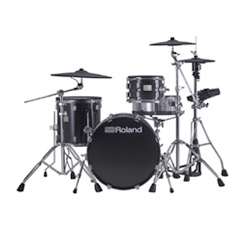 The VAD 503 is a four-piece with full-size wooden shells that if you're not paying attention might have you saying "I didn't know Roland made acoustic kits!"

The shell array of this kit includes a 20" kick, 10" rack tom, 14" floor tom and a 14" stainless steel snare. Tension-adjustable mesh heads let you get the feel of each piece just right and matching your ideal acoustic kit, and you'll actually be moving air each time you strike the kick, which creates remarkably authentic feel. The VAD 503 is also equipped with 12" hi-hats, a 14" thin crash, and an 18" ride. The ride cymbal features highly specialized digital mapping, granting you access to your favorite muting techniques.
Roland VAD 306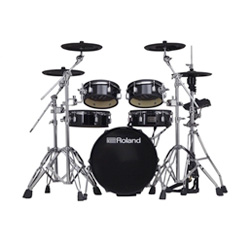 If you want the Acoustic Design experience but need a more compact and portable option, look no further than the VAD 306 kit! Featuring a footprint similar to that of a mid-level V-Drums set, the VAD 306 is nonetheless a fully capable, highly versatile kit!

The 5-piece VAD 306 kit is equipped with a 12" snare, two 10" rack toms, a 12" rack tom, and 18" kick. The shallow-depth shells are all made of wood, making them light weight but with an authentic feel. The cymbal lineup includes 12" hi-hats, two 12" crashes and a 13" ride cymbal.
Meet Your Module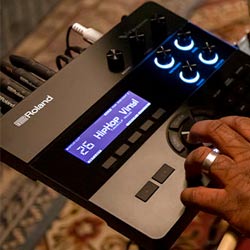 Good news for drummers who love to use an arsenal of sounds -- both VAD kits feature Roland TD modules that bring out your creative potential.

The VAD 503 kit is equipped with the much-acclaimed TD-27 module. This module offers 100 spots to save kits, a whopping 728 instrument samples, compressors and EQs on each pad, 30 effects, and PureAcoustic Ambience Technology to get the room sound you need.

The VAD 306 kit includes the TD-17 module. This module features 100 drum kit slots with 310 instrument samples to utilize, plus 10 acoustically focused kits developed specifically for the VAD 306! Its on-board coaching tools are an excellent feature for those looking to improve their technique.

Both kits feature on-board Bluetooth functionality, letting you stream backing tracks from a phone or computer!