QSC K.2 Series: Ideal instrument amplification or portable PA
The K.2 series includes the K12.2, K10.2, and K8.2 full-range 2-way powered speakers.


What's New in K.2?
As the second-generation of QSC's hugely popular K Series, the K.2 Series improves on their own high standards, with updates including...
- More power, higher headroom: True 2025-watt peak (700 watts LF + 225 watts HF)
- More output: 2-3 dB higher SPL, deeper bass due to complex excursion limiting, and improved voice clarity with flat phase response - New rear LCD screen: Easy access to DSP presets and custom settings
- Built-in presets: Dance Music, Stage Monitor, Vocal Monitor, Acoustic Guitar, Bass Guitar, Handheld Mic, Headworn Mic, etc.
- Saveable Scenes: Adjust and save your preset, crossover, delay, EQ, and input A and B sources
- 55-degree-angled corner: Tilt your speakers back as floor monitors
- 3.5mm (1/8") Aux Input with independent gain
- Selectable Hi-Z (high-impedance) input for passive instruments
- Updated styling: Smoother lines, new cloth lining under grille, less obtrusive M10 fasteners, improved center of gravity for pole-mounting with addition of second pole cup
QSC K12.2 full-range 2-way powered speaker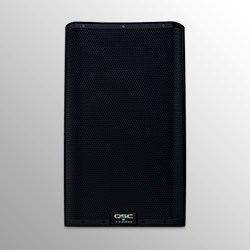 The largest speaker in the K.2 series, the K12.2 weighs 39 pounds and stands 23.7" tall, 14" wide and 13.8" deep. It's loaded with a 12" woofer for the LF driver, and the same 1.4" titanium diaphragm compression driver found on all K.2 full-range speakers. The K12.2 is designed to disperse sound evenly across a 75-degree axisymmetric coverage angle.

The successor to the best-selling QSC K12, the K12.2 is a great choice for portable PA systems. A single K12.2 is also a "secret weapon" for onstage instrument amplification, replacing conventional amps for keyboardists, bassists and guitarists.

The K12.2 delivers a frequency response of 50 Hz - 20 Hz, with a peak 132 dB SPL and continuous 126 dB SPL at 1 meter.

New from $799.99 or 8 payments of $100 | Learn more »
QSC K10.2 full-range 2-way powered speaker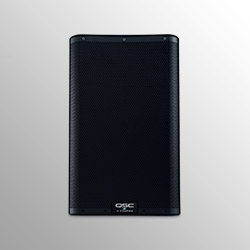 Loaded with a 10" woofer, the K10.2 is 20.4" tall, 12.6" wide and 11.8" deep. Its compact size makes it a good choice for formal venues/events where your PA needs to fill the room without disrupting the aesthetics of the space, and at only 32 pounds, the K10.2 is easy for one person to set up on a pole.

Even sound dispersion over a 90-degree coverage angle means your K10.2 speakers can be close to the audience without leaving out folks on the sides -- making them excellent PA mains for small venues. And with its angled back corner, the K10.2 makes a great floor monitor.

The K10.2 puts out a frequency response of 56 Hz - 20 kHz, and is rated for a max peak 130 dB SPL, continuous 124 dB SPL.
New from $699.99 or 8 payments of $87.50 | Learn more »
QSC K8.2 full-range 2-way powered speaker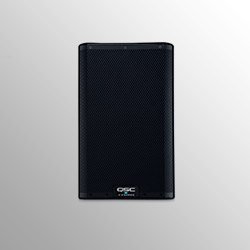 The smallest member of the K.2 series, the K8.2 weighs in at just 27 pounds and stands 17.7" tall, 11 wide and 10.6" deep. Like its larger siblings, the K8.2 has a tilt-back corner for floor monitor applications. It delivers even coverage over a very wide 105-degree angle, vertical and horizontal, making efficient use of its 2000 watts peak power.

The K8.2 delivers a frequency response of 49 Hz - 20 Hz, employing switchable DEEP processing for impressive bass response despite its small size -- making it a great choice for a super-portable grab-and-go PA speaker or instrument amp. It's rated for a max peak 128 dB SPL, continuous 122 dB SPL.

Beyond its incredible sound and solid build quality, the K8.2's most impressive spec may be its price-to-performance ratio that rivals nearly any small powered system out there.


New from $649.99 or 8 payments of $81.25 | Learn more »
QSC KW Series: Longer throws, deeper lows for large venues
The KW series includes the KW122 and KW152 full-range 2-way and KW153 full-range 3-way speaker, and the KW181 subwoofer.

The "W" in "KW" stands for wood. QSC's KW series speaker enclosures are made of machined birch plywood with aluminum handles -- an upgrade to the K.2 series enclosures, which are made from high-impact ABS molded plastic. While wood is heavier, it simply sounds better.

KW series speakers are made to be splayed. While K.2 series speakers project sound in a cone-shaped pattern, KWs project an axis-symmetric pattern with a more square cross-section. In plain English, K.2 speakers work best as standalone speakers, while KWs lend themselves to being grouped in a cluster of 2 or more speakers, because the square pattern edges match up with each other -- helping to blanket a large venue in consistent sound.
QSC KW122 full-range 2-way powered speaker
While the KW122 and K12.2 are both 2-way 12" speakers with a 75-degree coverage angle and 2000 watts peak power, the models have key differences. To accommodate the KW122's larger tweeter horn, its birch wood cabinet is 26 inches tall and weighs in at 49 pounds.

The KW122 can simultaneously accept mic, line, and stereo RCA inputs, mix all 3 inputs within the speaker, and and then send output to a second daisy-chained KW122. If you're installing a PA that will be fed by multiple mixers, the ability to connect all those inputs is a big plus.

When you need coverage wider than 75 degrees, KW122s work especially well when grouped in a cluster. Even if you're starting out with a single pair of KW122s, these speakers make an excellent starting point for a PA that you plan to expand in the future.

New from $1,099 or 12 payments of $91.59 | Learn more »
QSC KW152 full-range 2-way powered speaker
Like all the KW speakers on this page, the KW152 is rated for 1000 watts of continuous power -- but that power is spread over a narrower 60-degree coverage angle. KW152s are "long-throw" speakers: they're built to be farther away from the audience, in larger venues.

Two or more KW152s can be mounted together to cover a 120-degree or wider angle, with minimal overlap -- unlike short- or medium-throw speakers whose wider dispersion patterns would cause comb filtering. The KW152s are excellent "building blocks" of vertical arrays or clusters in large venues, where high SPL is needed at a long distance. A single KW152 also makes an excellent side-fill or drum-fill monitor on stage: the 60-degree pattern lets you aim the speaker precisely where musicians need to hear it, resulting in higher gain before feedback.

Enclosed in birch cabinets, KW152 speakers weigh 64 pounds. Thanks to their powerful 15" drivers, KW152s reach down to 47 Hz, with a max SPL of 133 dB. Flip the External Sub switch to engage a 100 Hz high-pass filter and use your 1000 watts even more efficiently.

New from $1,199 or 12 payments of $99.92 | Learn more »
QSC KW153 full-range 3-way powered speaker
The only three-way loudspeaker in the family, the QSC KW153 has dedicated drivers for high, mid, and low frequencies: a 1.75" HF compression driver, a 6.5" midrange cone, and a 15" woofer for the lows. The KW153's 15-inch woofer cone digs down to a thunderous 35 Hz (think "dinosaur footsteps" low), while the dedicated midrange horn reinforces the real star of your mix: the vocals and instrumental solos.

When you're working with a frequency response this wide (35 Hz to 18 kHz), physics prevents the loudspeaker's coverage pattern from being contained to an extremely narrow angle. Still, the KW153 disperses sound over a well-contained 75-degree coverage angle, which makes them a great candidate for cluster applications.

So what kind of application requires a rock star of a loudspeaker like the KW153? Think big venues. KW153s make killer main PA speakers in high-SPL, long-throw applications. Pair them with KW181 subs in the corners of dance clubs. Set them up as side-fills on large stages. With these speakers in your rig, there aren't many gigs you can't handle. Each KW153 weighs 87 pounds, with handles placed at just the right height to make them portable.

Need another great reason to upgrade to KW153s? Since these speakers boast a frequency response all the way down to 35 Hz, you're that much less likely to require dedicated subs.

New from $1,439 or 12 payments of $119.92 | Learn more »
QSC KW181 powered subwoofer
Want to push some serious air? With 1000 watts continuous and 2000 watts peak power, the KW181 is a serious sub. Like its KW series siblings, the KW181 boasts a birch cabinet, plus casters that make it easy to move -- so you can get the dance floor moving faster.

QSC's sophisticated DEEP limiter (Digital Extension and Excursion Processing) detects and corrects any brief bass transients that could cause clipping distortion or over-excursion of the 18-inch woofer -- helping the KW181 to safely pump out frequencies as low as 43 Hz, with a max SPL of 132 dB.

New from $1,399 or 12 payments of $116.59 | Learn more »