Customer Kudos
"Reliable and prompt shipping. Great customer service in the only two cases that I ever had a problem with a purchase from zZounds in more than ten years."
January 3, 2022

MXL 990 Mic + OverStream Bundles
Tailor-Made for Makers
Some of the most relevant and noteworthy music and videos of the past two decades have been home-made, and this phenomenon only grows each year. While home-produced music, videos, and podcasts continue to flourish, live streaming has gained a huge audience in just the past few years. Popular with gamers, artists, and other influencers, live streaming captures and broadcasts the action live to your followers and anyone who wants to watch.

MXL has given their venerable 990 condenser mic a bold look optimized for video streaming, while retaining the same incredible vocal sound of the original. They've also created the OverStream bundles, designed to give live streamers and content creators everything they need to start making and streaming right away. Let's take a closer look!
MXL 990 Blaze Large-Diaphragm Condenser Microphone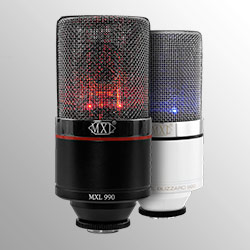 If you want to start streaming or creating content, one thing that will really set you apart is great sound. MXL's 990 is fully equipped for all forms of content, from music and videos to voiceover narration and podcasting. The 990 is a large-diaphragm condenser microphone with a wide frequency response of 30 Hz - 20 kHz, which is ideal for capturing any human voice.

The MXL 990 excels on voices. It lends a silky smooth character to higher frequencies, has a well pronounced midrange where most human speech resides, and captures tight and crisp low-end frequencies, so you don't need to worry about deep voices sounding muddy. Finally, the MXL 990 Blaze also adds a touch of flair visually, with its glowing red LED lights providing a cool effect on camera!
OverStream Bundle: Mic & Accessories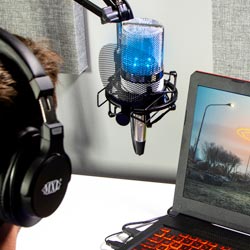 Our first OverStream Bundle includes the MXL 990 condenser mic, available in Blaze (black chassis with red LEDs) or Blizzard (white chassis with blue LEDs) -- choose the color that fits in with your set or recording space! In addition to the mic, this bundle includes the MXL BCD-Stand. This heavy-duty professional stand mounts to any table or desk, and makes it easy to place your mic in the perfect position. Finally, the bundle includes the MXL SMP-1 metal pop filter with shock mount. The pop filter helps to shield your mic from picking up harsh-sounding bursts of air that result from "plosive" consonants like P, T, and K. The shock mount suspends your 990 mic, preventing unwanted vibrations from finding their way into your audio.
OverStream Pro Bundle: Mic, XLR-to-USB Interface & Accessories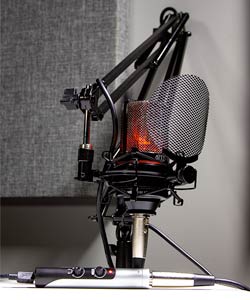 MXL's OverStream Pro bundle includes all the same components as the one above -- an MXL 990 mic, the BCD-Stand, and SMP-1 -- plus a Mic Mate Pro. This handy adapter converts your mic's analog signal from an XLR cable into a digital signal through USB. The Mic Mate Pro is completely plug-and-play -- just connect to your Mac or PC and start recording or streaming! This bundle is great for those who don't have an audio interface, digital mixer, or analog-to-digital adapter of their own.