Customer Kudos
"zZounds always comes through for me, giving me the credit that others won't. Prices are always competitive and allows me to get the gear that would otherwise be out of reach for me."
July 10, 2022

IK Multimedia UNO Series
As masters of digital gear for mobile recording, IK Multimedia made a splash with the announcement of their original UNO -- a compact, fully analog monophonic synthesizer. Since then, the UNO family has grown to include an analog drum machine, as well as two versions of the robust UNO Synth Pro -- one for desktop use and one with full-sized keys.

Looking to enter the analog realm? The UNO series is a great place to start -- but which synth is right for you? This Spotlight guide showcases what makes each UNO synth or drum machine unique, so you can find the right companion and make your analog synth dreams a reality!
Shop UNO Series »
IK Multimedia UNO Synth Pro Compact Synthesizer Keyboard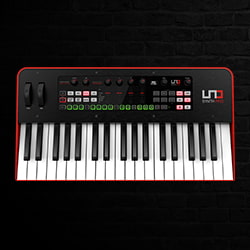 Fully analog and stacked with three oscillators, a 64-step sequencer, and enough I/O to fit in any rig, the Synth Pro is the crown jewel of the UNO family. This version, which features 37 semi-weighted full-sized keys, is ready for live performance right out of the box.

You could spend days tweaking and building sounds from the UNO Synth Pro's three analog oscillators, dual filters which can be run in series or parallel, pulse width modulation, and two full-width ADSR envelopes, just to name a few of its soundscape tools. Save everything across 256 user-editable presets, and connect to the rest of your rig via USB, MIDI I/O, and assignable CV/Gate outputs!

If you've got keyboard chops and want to flaunt them, this is the UNO Synth Pro for you. It also makes a wise choice for beginners who want to save on upgrading to a full-sized keyboard after mastering the basics of sound sculpting.
IK Multimedia UNO Synth Pro Desktop Synthesizer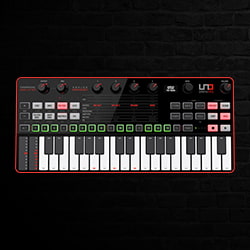 Packing the same synth brains as its full-size-keys-equipped sibling, the UNO Synth Pro Desktop slims things down into a super-compact desktop format. Its touch keyboard is responsive and great for sketching out ideas, but you can also control the synth with an external keyboard, or run it through your DAW.

With a footprint not much larger than the original UNO Synth, the UNO Synth Pro Desktop levels things up with all the specs you see in the full-size UNO Synth Pro, like 12 digital effects, a 64-step sequencer, and the same incredible 10-mode arpeggiator. On the desktop version, you'll perform on a capacitive touch keybed as well as mod and pitch strips. These convenient controls are great for sketching out ideas, and you can still plug in a controller keyboard of your choosing if you wish.

For those with desks already crowded by other synth or production gear, the UNO Synth Pro Desktop is the perfect choice for an analog synth. Just remember -- this pint-sized synth packs a punch.
Check out our exclusive video demo of the IK Multimedia UNO Synth Pro Desktop:
IK Multimedia UNO Drum Analog Drum Machine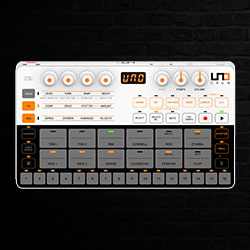 The grooviest member of the UNO family, the UNO Drum brings the beats in an ultra-compact desktop format. With 12 unique drum elements (6 of which are analog), plus analog drive and compression, the UNO Drum makes it easy to create warm-sounding beats right away. An additional 54 digital PCM elements and 11-voice polyphony allow you to dial in the drum kit of your dreams.

Expand the UNO Drum's palette even further by tweaking parameters like tuning, snap, and decay. Give you grooves some more swing or a human touch, or add a glitchy stutter effect. Don't want to build something from scratch? Scroll through 100 kit and 100 pattern presets, edit and customize them, and save them for later!

When you're ready to get serious about rhythm, pick up the UNO Drum. This miniature beast also makes an excellent practice partner for guitarists and bassists, as well as buskers and solo performers!
IK Multimedia UNO Synth Portable Analog Monophonic Synthesizer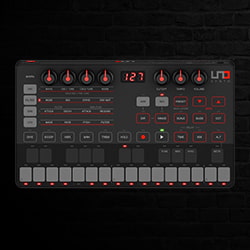 The O.G. UNO, IK Multimedia's maiden synthesizer, may be compact, but it lacks nothing in sound creation potential. Shape your waveforms with two analog VCOs (voltage-controlled oscillators), tune in to the right frequency with a resonant multi-mode filter, and add a touch or a heaping helping of grit from the dual-stage overdrive circuit. Not sure where to start? Choose from 100 grab-and-go presets, 80 of which can be overwritten once you've created some awesome tones.

The UNO's 16-step sequencer can be plotted out in advance or used in real time. A 10-mode, 4-octave arpeggiator opens the door to plenty of creative patterns. And while the UNO's touch keyboard may look small, it can be programmed for standard chromatic mode, or locked onto one of 13 scales. Already have a controller you love? Plug it into the UNO and use those keys!

The original UNO makes a killer first synth, or an additional compact analog synth for the enthusiast or DJ looking for a fun yet powerful auxiliary piece.