Customer Kudos
"zZounds is such an easy company to deal with. Accommodating and professional."
June 12, 2022

Spotlight: Focusrite Vocaster Series
Simple, affordable audio interfaces made for podcasting
To get started in the world of podcasting, you don't need a fancy $500+ setup -- you need Vocaster! Focusrite's Vocaster series of USB audio interfaces is made for content creators who want a simple, affordable path to pro-grade audio, right out of the box.
Get a closer look at the Vocaster series in our video overview:
Shop the Vocaster Series »
With every Vocaster audio interface, you get...
-
Serious gain range.
The mic preamps built into Vocaster interfaces have an impressive 70 dB of gain on tap! That means you can plug in any low-output dynamic microphone (like the
Shure SM7B
or
Electro-Voice RE20
) and be able to crank it up nice and hot, with no need for an external mic preamp, lifter, or booster. Compare 70 dB to the 56 dB of gain on Focusrite's Scarlett interface preamps, and you'll understand why this is a serious broadcast-booth spec.
-
Auto Gain and Enhance.
Focusrite takes the guesswork out of dialing in great sound. Auto Gain "listens" to your voice for 10 seconds and automatically sets a level, and the Enhance button automatically applies subtle processing to make your voice sound its best. Compare and choose from the Clean, Warm, Bright, and Radio presets to get the vocal sound you're going for, fast.
-
Focusrite's Easy Start Tool.
Vocaster is all about removing roadblocks to smooth out your setup -- even if you're new to audio interfaces. The first time you power on your Vocaster and plug it into your computer, Easy Start will lead you through a step-by-step setup guide, from installing the Vocaster Hub control software to connecting your microphone.
-
Phone and camera connectivity.
With Vocaster, you don't need a string of adapters to get sound from your phone into your computer, or from your computer to your DSLR camera! The interface's 1/8" TRRS input and a 1/8" TRS output have you covered. Plus, the Vocaster Two has built-in Bluetooth, so you can stream audio from from your phone to your interface wirelessly -- making it simple to record call-in guests on your podcasts. You can even stream audio from Vocaster Two to your smartphone via Bluetooth, and send your pro-quality mix to apps like Tiktok and Instagram.
-
All the software you need.
In addition to Focusrite's essential Vocaster Hub software -- which lets you control your mix, route "loopback" audio from your computer, and more -- you'll also get subscriptions and licenses for a premium suite of software: Hindenburg Lite to record, three months of SquadCast Pro + Video to bring in your guests, and six months of Acast Influencer for podcast hosting and monetization. There's even a six-month trial of Hindenburg Pro.
-
And a hardware mute button for your mics!
Most audio interfaces lack this simple feature -- since in the music production world, we're used to clicking track mute controls in software. But hardware mute buttons like the ones found on Vocaster interfaces are much more ergonomic and easy to use for you and your guests -- and much more foolproof than mousing a button on a screen.
Which Vocaster should I get?
Follow our guide below to compare the Vocaster One, Vocaster Two, Vocaster One Studio, and Vocaster Two Studio!
Vocaster One USB-C audio interface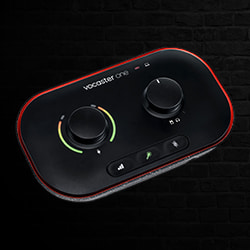 The Vocaster One is ideal for solo podcasters. Choose this interface if you're planning on plugging in just one microphone. Vocaster One gives you one XLR mic input, one headphone output, a TRRS input for plugging in your phone for call-in guests, and a TRS output for connecting to a DSLR camera.
Vocaster Two USB-C audio interface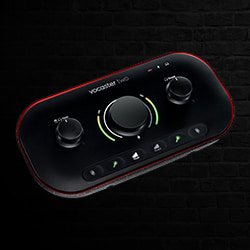 The Vocaster Two is perfect for podcasts with two co-hosts conversing in person, or one host with one in-person guest. Choose this interface if you plan to use two microphones. With Vocaster Two, you get two XLR mic inputs, two headphone outputs, the same TRRS and TRS I/O as the Vocaster One, plus a built-in Bluetooth receiver for streaming audio from your phone wirelessly -- the easiest way to handle call-in guests.
Vocaster One Studio bundle with interface, headphones, and mic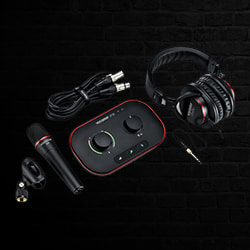 An affordable all-in-one solution for solo podcasters, this bundle includes the Vocaster One interface plus a Vocaster DM1 microphone, XLR cable, and HP60v headphones. To complete your setup, just
add a microphone stand or boom arm
of your choice.
Vocaster Two Studio bundle with interface, headphones, and mic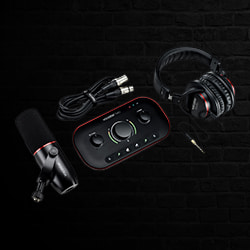 A great value, this bundle includes the Vocaster Two interface, Vocaster DM14v microphone, XLR cable, and HP60v headphones. Add another microphone and pair of headphones if you're recording two people in person, and
add microphone stands or boom arms
for each person to complete your setup.