Customer Kudos
"After all the research and experience I've had with easy pays and pay as go plans, so far zZounds is the best in the business! I have to highly recommend zZounds for all your gear needs and wants!"
August 4, 2022

Denon DJ LC6000 Prime
Expand Your Possibilities
The minds at Denon DJ have put together something wholly unique in the LC6000 Prime. This single-deck MIDI controller can fill in the missing links of your DJ rig, or it can be the building block of a new setup!

There are so many ways to incorporate the LC6000 into a rig, nearly any digital DJ can find a use for it. It can be paired with another Prime series device to control its second layer, two can be paired with a 4-channel controller for extra control, or one or two LC6000s can complement a mixer and laptop, controlling supported DJ apps like Serato, Virtual DJ, and others. Read on to learn more about the LC6000 Prime in our Spotlight guide!
Learn more »
Inspired by the SC Series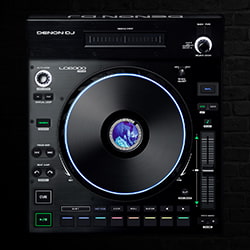 DJs familiar with Denon DJ's popular
SC Series controllers and media players
will feel right at home on the LC6000. This controller inherits the SC Series layout, with a full-sized jogwheel and eight performance pads in a row beneath. These pads allow you to set hot cues and loops, use the roll and slicer effects, and more. Also familiar to SC Series users, the dedicated Auto Loop controls allow you to easily set loop length and trigger loops on-the-fly.
Select a Deck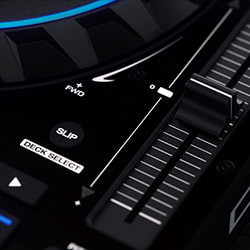 Central to the LC6000 Prime's appeal is its dual-layer functionality. With a simple USB connection, the LC6000 can be used to control the second layer of the
SC6000 Prime's
dual-layer feature -- giving you individual control of each of the SC6000's layers and dedicated audio outputs. With a touch of the Deck Select button (marked "SLIP"), you can use the LC6000 to gain complete tactile control over your virtual decks in DJ software like Serato, Virtual DJ, and others.
Pro Jogwheel and Fader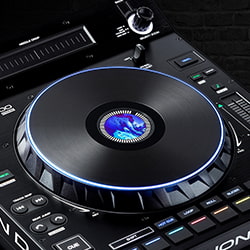 Meant to complement to your primary decks and mixer, the LC6000 Prime is outfitted with professional-quality components. Its 8.5" capacitive touch jogwheel is highly responsive to your touch, letting you mix and beatmatch with confidence. The jogwheel's high-definition display also showcases album artwork with play head position. The 100mm dual-precision pitch fader has a buttery smooth feel that will fit right in with your other controllers or mixer if you're integrating the LC6000 into your existing setup.
Truly Plug-and-Play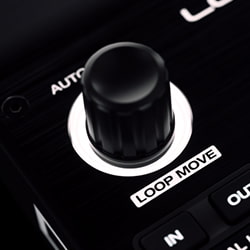 In designing the LC6000 Prime as the ultimate add-on controller, Denon DJ was sure to make this unit extremely easy to connect. A single USB port provides power to the unit and transfers data between DJ gear. And just in case your other controller can't supply enough juice, the LC6000 can also be powered by an included 12V power supply.