Customer Kudos
"zZounds is great, they really deliver, they have a lot of products to choose from, I am very pleased. Even if you don't have the cash, they give you the choice to pay and play, they ship ASAP and it's delivered very quickly. I love this company! Thank you."
October 18, 2021

Bose ® L1 ® Compact
Portable Line Array System
Great sound in under 30 pounds
With the Bose L1 Compact, you can stop lugging that cumbersome PA system to all of your gigs. At just 29 pounds, the L1 Compact is lighter, smaller, and even easier to use than larger Bose L1 systems. Especially great for smaller venues, this system gives you more room on stage and fewer cords to trip over.

The system comes with two bags: one that holds the base and the loudspeaker array, and one with a shoulder strap that holds the loudspeaker extensions. In fact, you can tote the whole system in one hand, and your guitar or keyboard in the other. That's why the Bose L1 Compact is great for solo performers: you can carry it in one trip, and it takes less than a minute to set it all up. Your back and knees will thank you.
Learn more about the Bose L1 Compact »
Consistent sound for audiences up to 100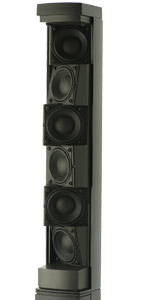 So, how does the L1 Compact fill an entire room with sound? It's all thanks to Bose's Spatial Dispersion(tm) technology. If you take a peek inside the L1 Compact's loudspeaker array column, you'll see 6 small speaker drivers stacked vertically, and precisely angled so that sound is pushed in every direction. These 6 small speakers cover high and midrange frequencies, while lows are handled by the 8" bass driver in the base of the unit.

The result is 180 degrees of completely even sound for an audience of up to 100 -- no matter if they're standing in the front row, off to the side by the bar, or in the back. So whether you're performing for an intimate audience at your local coffee shop, or at your friend's wedding reception, the Bose L1 Compact delivers clear, balanced sound in all directions.

The Bose L1 Compact eliminates the need for separate main PA speakers, stage monitors, and mixers. Just plug into the 2-channel mixer in the L1 Compact's base, and place the system behind you while you perform. You and the audience will be able to hear everything.

Onboard mixer with ToneMatch DSP presets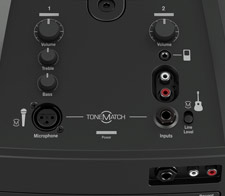 Conveniently located on the back of the L1 Compact's base is the built-in 2-channel mixer. On Channel 1, you'll find an XLR input for a dynamic microphone and EQ knobs for treble and bass. Channel 2 has a 1/8" stereo input for your MP3 player, stereo RCA inputs, and a 1/4" instrument input for your guitar or keyboard, with an instrument/line level switch. Each channel has its own volume knob.
The L1 Compact's two built-in ToneMatch presets are a singer/guitarist's dream. Bose has done the work for you: Channel 1's preset is optimized for a dynamic handheld mic, and Channel 2 is optimized for your acoustic guitar. Just flip the line-level switch on Channel 2 to connect a line-level source (like an iPod or your DJ rig) and bypass ToneMatch processing.

Tailor your sound to the room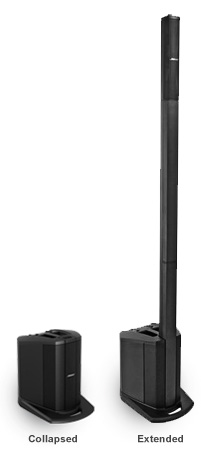 The Bose L1 Compact lets you tailor your sound coverage to the venue, without dealing with extra stands or wiring. It can be set up in two ways: in collapsed or extended mode. Both setups sound great, but each has its own advantages.

In its collapsed state, the L1 Compact takes up less room and is great for smaller events where the audience is seated, like presentations or lectures. Just set the collapsed L1 Compact on a tabletop, plug in the mic, and speak. You'll be surprised with how well the students in the back row can hear you. The collapsed state also works well for karaoke parties, when you plug in a microphone and your laptop.

For a larger audience of up to 100 people, the loudspeaker extensions raise the mid/high array, allowing for the sound to fill more space. All you have to do is take slide the loudspeaker array out from the power stand, slip the two extensions in its place, and place the loudspeaker on top of the extensions.

Because of its ease-of-use and small size, the Bose L1 Compact is great for many purposes. You can plug in a microphone for speeches, an MP3 player or laptop for music playback, a projector for presentations, and an instrument for concerts. You can even use it for karaoke!